Interlock & Natural Stone for Your Outdoor Living Space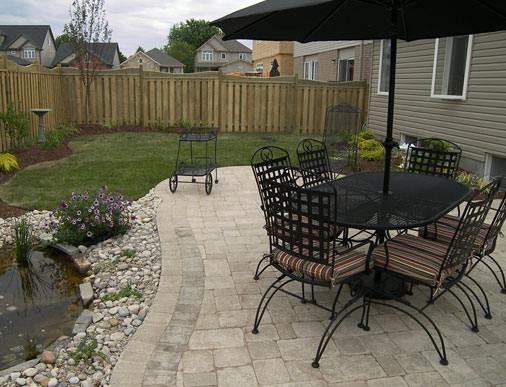 At Dreamestate Landscaping we realize that the high traffic areas of your outdoor space need materials that are durable, sustainable and beautiful. We create interlocking systems with a wide variety of paving stones and natural stone to install a number of applications for your home, including:
Patios
Walkways
Retaining Walls
Driveways
As an authorized Techo-Bloc Installer (Techo-Pro) and every member of our team being Certified ICPI Installers, we are experienced and certified which means you can rely on us for interlocking and natural stone installation that is done correctly the first time. We always meet or exceed industry standards and recommendations and use high quality materials when it comes to installing patios, walkways, retaining walls and driveways for your home.
Our focus on quality is why Dreamestate Landscaping provides a five (5) year warranty on all Interlocking & Permeable Paving Systems.  Any failure of interlock (any irregular settlement or movement of paving stones or retaining walls, including 'tire rutting'), caused by settlement of base materials installed by Dreamestate Landscaping is repaired at no cost to you.
Book your on-site consultation today or call Dreamestate Landscaping now for your next interlock or natural stone project.
Professionalism at its Best
At Dreamestate Landscaping our customers appreciate our attention to meticulous detail when it comes to all of our landscaping installations.  We take our professional commitment to your satisfaction very seriously and pride ourselves in always:
Returning your calls
Showing up on time
Cleaning up after ourselves
Respecting your property and your neighbour's property
Doing our best to minimize disruption
Providing honest and fair services and prices to our customers
We honour our commitments to all of our customers 100% of the time and consistently provide superior quality work.
Experience our professional difference and book your on-site consultation today or call Dreamestate Landscaping now for a quote on your next interlock or natural stone project.